| | |
| --- | --- |
| | Our company has been producing tailor-made industrial and kiosk keyboards and keypads since 2001. In addition, we specialize in manufacturing a wide range of components and tools to meet diverse needs. Our expertise also extends to the fabrication of custom kiosk enclosures, which are made to order according to our clients' specifications. |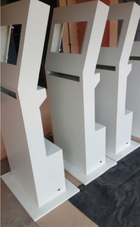 At our company, we specialize in the fabrication of industrial kiosk enclosures that are commonly used in airports, libraries, and other public spaces. Our enclosures are custom-made to meet the unique requirements of our clients, and we offer optional assembly of internal components based on their needs. Our fabrication services encompass the entire process, from design to metal fabrication and component assembly. We also provide various coating and painting options to ensure the highest quality finish, and our team is equipped to handle all aspects of packaging to ensure safe transport of the finished products.​
​Our company specializes in the production of a wide range of cutting tools that are machined, coated, and sharpened to meet diverse needs. From simple blades to complex shapes, we can manufacture cutting tools for a variety of purposes. Additionally, we also produce arrow broadheads (left) for archery bow hunting in various weights and configurations. Our team is committed to providing high-quality products that are designed to meet the unique requirements of our clients.

​Our company specializes in the manufacturing of industrial and kiosk keyboards and keypads in a wide range of sizes, mounting configurations, and language options. Our products are customized to meet the specific needs of our clients, with the option of special key input programming. We understand that every client's requirements are unique, which is why we offer a diverse range of products that can be tailored to their individual specifications. Our commitment to quality and customer satisfaction is reflected in everything we do.